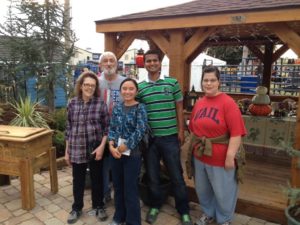 Photo courtesy of Sam. Thank you for sharing with us, Sam!
Being in the heart of Oklahoma, The Grandison Inn has the honor of serving guests from all over the world. Several times a year we receive guests from Italy, France, Australia, etc., who are passing through on Route 66 on motorcycle. A couple from Sweden first stayed with us in 2007, and as they have added to their family continued to return to Oklahoma and The Grandison for vacation…and square dance festivals.
But the best part about making new friends from around the world is the joy of becoming family.
We've been fortunate that some of our global guests have been able to make extended stays with us to participate in internships. This year long-term guests Maham from Iran, "Sam" from India, and Marsia from Indonesia have shared their lives and traditions with us as we have shared ours with them. We try to involve them in typical American-Oklahoma events and make them a part of our family events. We include them in Sunday family dinners, which can be very interesting since different countries have different cultures, foods, religious habits, etc. One Sunday was homemade fried chicken (a birthday favorite of one of Wright daughters), another Sunday was spaghetti with choice of toppings, but the favorite of all foreign guests so far is the baked potato bar! If they have a birthday while staying with us, we celebrate that also. Last fall, we took "Sam" & Marsia to the Oklahoma State Fair — they were overwhelmed! Then it was on to the Myriad Gardens for hay bale maze, pumpkin-painting, herb-growing, and apple cider-making. We served a traditional American Thanksgiving dinner for them to meet other family & friends and had a hay rack ride with a campfire to roast hotdogs and marshmallows. In December, they loved all the decorations in the Inn, the trip to see the Mesta Park house with a light display set to music, and the beautiful drive-through lights at Yukon's Christmas In the Park. None of them had ever seen anything like it before.
It brings special joy and meaning to us to be able to share our special cultural and family times with these special guests who bring so much to us. The only sad part is having to say goodbye, but we keep in touch, and they are so good about checking on us — such as after the May tornadoes! If you are not from around "our neck of the woods" and you're interested in visiting Oklahoma, we hope you will make us one of your stops! We would be glad to help you plan your very own Oklahoma Adventure and have you as our newest family member — just call us at 405-232-8778. You can also find more about what's going on around the state at TravelOK. Happy travels!
– – – – – – – – – – – – – – – – – – –
P.S. In light of the media attention that Oklahoma has received due to the May 2013 tornadoes, we want to reassure you that in spite of occasional tornadic storms during specific times of year, Oklahoma is still a safe, vibrant and fascinating place to visit. Being lifetime Oklahoma veterans, our innkeepers are very "weather aware," our public siren warning system is excellent, and The Grandison Inn does have a basement for shelter. If you have any concerns or questions about this, please do not hesitate to ask us. Of course, if your purpose in coming to Oklahoma is sign up for a guided storm chasing tour, that puts a whole other wheel on the wagon!