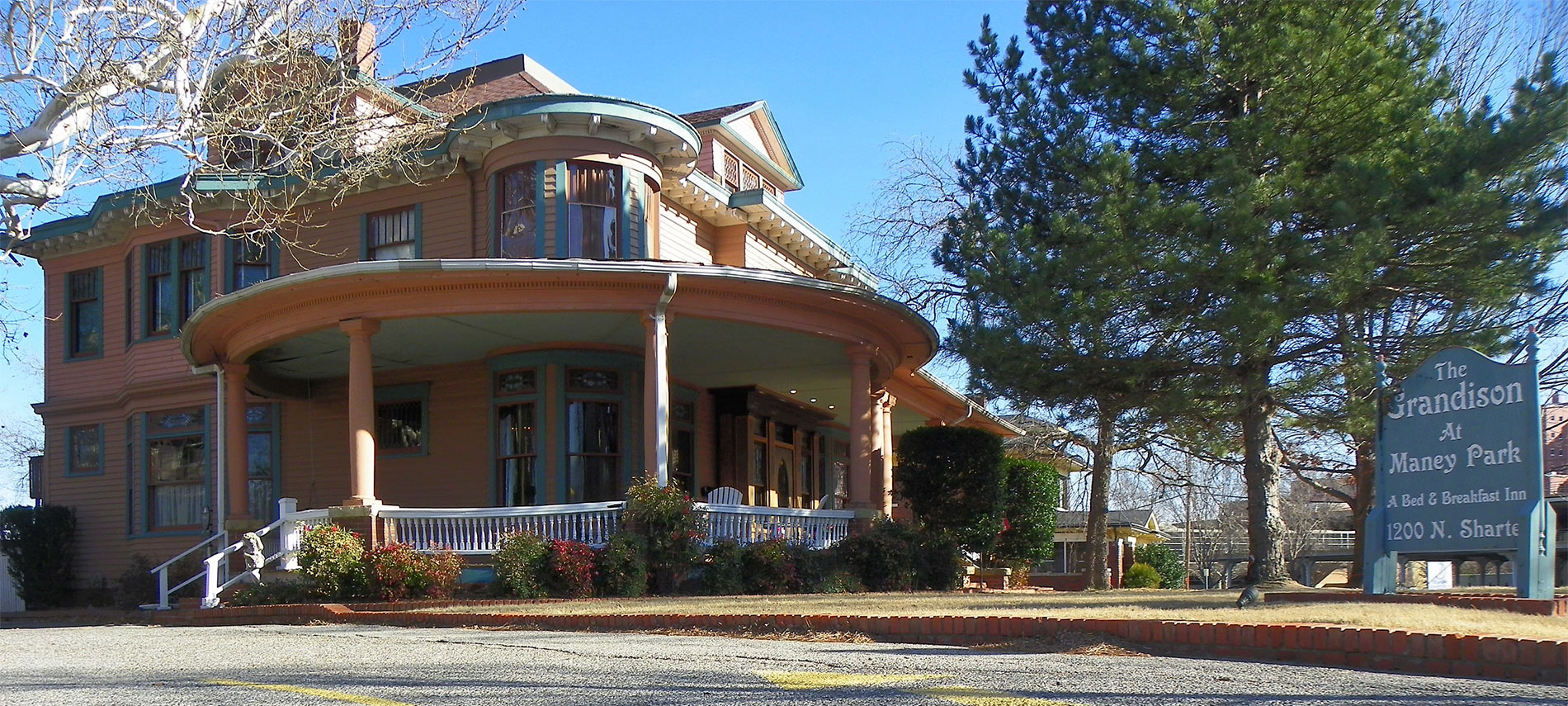 Hello! My name is Brie Aronson. Last month I was walking in the neighborhood where The Grandison Inn is located, and stopped in. I met Innkeeper Claudia Wright, and explained that I am interested in perhaps owning a bed and breakfast of my own someday, and asked if she by chance looking for help with any inn tasks? I love learning on-the-go like this, and she graciously welcomed me on to her team! I recently sat down with Claudia to hear some of the background that led her and her husband, Bob, to purchase this beautiful historic home and create a much-loved Inn.
As it turns out, Claudia never dreamed she'd own an inn; in fact, when they first started entertaining the idea, she hadn't heard of anyone doing anything of the sort in Oklahoma.
"I've always been a volunteer – I guess that's just part of me," she explained, adding that she did feel she had a distinct gift of hospitality, and she and Bob were in the restaurant business for a long time. When they had their last three children, they moved to a bigger house, and ended up with an extra bedroom. This was well before the days of AirBnB, but she belonged to a network at the time where those who were members could stay for free with other members. "Guests in the network didn't pay for the room rental, but they might have brought you a gift," Claudia recalls. She had guests from this network about once per month, and fell in love with getting this spare bedroom ready each time a guest was coming.
Claudia and Bob stayed very involved with the restaurant business until her mother was in a bad car accident and needed Claudia's help recovering. "We had just adopted three more kids, and I said to Bob, 'Let's find something we can involve the whole family in.' " She joined PAII (Professional Association of Innkeepers International) and they purchased a home in in what is now The Plaza district, naming it The Grandison. They chose this name after seeing the abstract from the first owner of the property, who was named Grandison Crawford (you can see his will in the Inn when you visit next!). They announced their presence to the community by hosting luncheons, ladies groups, book clubs, and dinners. The years of being in the restaurant business came in handy, and they quickly became known for their chicken salad and coconut cream pie. The Wrights then built a gazebo so they could host weddings – and inaugurated it by renewing their own marriage vows inside! This is where they got their start as innkeepers and eventually went on to purchase the current location, a beautiful victorian home. They kept The Grandison name and added the distinction of it being located at Maney Park.
Early on, Claudia couldn't believe all the requests she received for jacuzzi tubs. She began to seek out architects to help her gently remodel the rooms in this historic home, but none of the ones she interviewed could catch her vision.
"I wanted each room to be unique," she told me, "but those initial architects all had cookie cutter plans."
Luckily, a friend who also owned a bed and breakfast in Edmond quit his job as an airline mechanic, and helped her with each room. Today every room (save one) has a jaccuzi tub, and each room you will find to be uniquely designed!
In future blogs, we will delve more in to the history of each room, the significance of its name, and the special stories behind its design. Thank you for reading along!